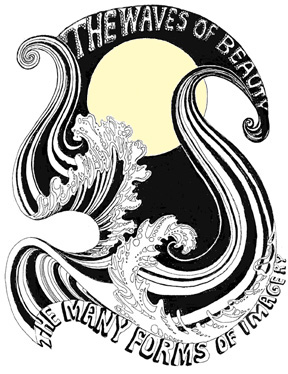 CRYSTALRIVERS.COM

---


THE WEAVING of the
CRYSTAL RIVER ~
SONGS of the
SPIRITUAL PATH


VISIONARY ART and
LITERATURE of
MEDITATION and
CONTEMPLATION
The Waves of Beauty

The Many Forms of Symbolic Imagery
---
This is the area of symbolic imagery where the individual encounters the personal unconscious and later the collective unconscious, and deeper states. It is an area of mythic and religious symbolism expressed visually.

Some of the images are quick sketches, while others contain much detail and care. They attempt to capture some of the elements of unusual states of consciousness. As such, they are instructive and their purpose is to teach something about the nature of the mind as it encounters deeper realms of consciousness during meditation. Some images therefore include additional descriptive text.

Since the purpose of this section is educational as well as aesthetic, brief explanations of the types of meditation that result in this kind of imagery are also presented here.

The drawings are organized by themes such as meditation, creation and destruction, deities, and personal symbolic imagery.




Ekagrata Meditation

Some of the illustrations below result from ekagrata or "one-pointed" meditation. When the mind becomes highly concentrated, focusing all of its attention on a single imaginary visual point for a certain period, a series of images will sometimes appear. The images are sometimes called "veils". Many times they appear as 3-dimensional images, but the meditator can transcend them by turning them 2-dimensional, and then cutting through them or peeling them away. These images sometimes also take on a two or 3-dimensional character in the form of mandalas when their symmetry become circular. In this case, ekagrata meditation becomes a form of mandala meditation.

In this kind of meditation, the mind appears to be composed of a seemingly infinite number of these veils or layers containing mental imagery. The object of "one-pointed" meditation is break through these veils one after another in order to penetrate deeper, initially into the personal unconscious and later into the collective unconscious and universal consciousness, where the symbols encountered become religious or archetypal in character. These veils of the mind hide or obscure a spiritual reality which is many times perceived as spiritual light behind or beyond them. Passing through them is like moving through a dense forest where the meditator uses his or her concentration as a kind of cutting tool to penetrate them one by one, in order to finally enter a clearing of bright spiritual sunlight.

In the process of penetrating these veils, many different kinds of things can occur. Some of the drawings below illustrate the types of events that can occur during this kind of meditation, and the kinds of imagery associated with such events.



Sometimes during one-pointed meditation, more than one veil is visible at a time. This creates a "layered" reality where the meditator can see a number of distinct layers with the closer images partially blocking the images that exist behind them. This layering principle can also be seen in the appearance of a personality as a layer on top of the soul which appears as light as in the "Angel Over Sun" image at the end of this section. The following illustrations all show this layering principle.
Since veil meditation requires much concentration, there is always a problem with distractions which result in loss of concentration. The next few images show the theme of confusion and distraction as it appears during this kind of meditation.
Meditation on Deity - Multi-layered Reality of Meditation with Distractions

Confusion and Distraction - Image of Distraction During Meditation

Siren Waters - Beckoning Female Figures of Inertia, Distraction, or Destruction
Mental or meditative space has its own rules and a kind of security force. Some spaces require special passwords or knowledge before the meditator can enter them. Guardian Images will sometimes appear to distract the meditator or block entry by creating fear. Three images of guardian figures appear below.
Fierce Tiger - A Guardian Figure That Causes Fear to Distract the Meditator or Warn Him or Her of Danger

Meditation On Tara - Another Guardian Figure

Angel With Sword - Angel Guardian Figure With Living Fiery Sword
Meditation on Light or Sound
Another kind of meditation involves intentional identification with streams or flows of different kinds of visualized substance or energy. They may consist of either inner light or sound. In some cases, they are combinations of the two.
When the streams are made of light, the images below result from visualization of these visual streams of energy or substance. The "Woman of Water" and "White Fire Meditation" illustrations are examples of images that result from this inner identification with streams of substance (water) or light (white fire). This kind of meditation results from a shift in identity, from the meditator's normal body image or shape to identification with these inner energies or symbols. The "Heart Chakra Boats" image shows identification with a symbol (a Hindu heart chakra or wheel) which floats on the visualized substance (water).
The streams of sound are usually mantric currents and those can be accompanied by or produce visual imagery. Mantras are sacred words of power (i.e. OM or HUM) which are used as tools to change the meditator's state of consciousness. They are like vehicles which carry the soul from one space to another during meditation. Many of the visual images here are a by-product mantra meditation.
Contemplation of Deities
The theme of the images below is contemplation of deities from different religious traditions. This kind of meditation results in both abstract symbolic imagery as well as figures of deities in their more traditional forms. One type of abstract imagery of deities is represented by the two mandalas of Vajrasattva seen earlier on this page. The "Heart of Kali" and "Vishnu and Shiva" images below are yet another form of abstract symbolic imagery representing deities.
Hindu Imagery:

Buddhist Imagery:

Christian Imagery:

Corpse Of Jesse - Fiery Christ Arises From Figure of Death
Images of Spiritual Creation and Destruction
A common theme in meditation is how spiritual light, substance, or energy or spiritual beings create form and personality. These drawings show symbolically how different structures come into being. Whether the creative matrix is rainbow light, the emotion of compassion, a Buddha, a mystic spiral, or a growing flower, the sketches show how manifestation takes place in a spiritual context.
Spiritual light can also dissolve form and personality. The next drawing shows how the many categories of the mind symbolized by countless boxes are destroyed by the light of truth.
Light Enters The Rational Mind - Light of Truth Pierces a Mind's Rational Categories




Other Imagery
These two images focus on the Buddhist concept of reincarnation and the painful cycle of rebirth.
Wheel of Death - The Buddhist Wheel of Rebirth with a Skeletal Figure of Death

Wheel of Passion and Emotion - Figure Bound to the Wheel Symbolizing the Agony of Rebirth
The next two images are associated with passages from the Bible. The first is a pun associating the cross of Jesus with the spinal column in man. The second connects a figure in Judaism with yogic imagery from the Hindu tradition.
Spinal Cross - Fusion of Vertebral Column and Cross of Jesus

Solomon and Kundalini - Solomon's Knowledge Comes From Being Bitten by Snakes
Meditative imagery often symbolizes the meditator's role in society or the universe, and the conflicts between the material and spiritual spheres. The last set of images reflects various roles and conflicts associated with the spiritual path.
In meditation, there is sometimes imagery of different forms of consciousness. The following is a figure from a fairey race who is a "leaf encourager", or a being who helps the growth of plants.
Leaf Encourager - Fairy who influences the growth of plants

---
Stories | Poetry of Contemplation | Prayers and Hymns | Imagery and Artwork | Back | Next

Home

Web Site &copy Copyright 2001-2004, J. Denosky, All Rights Reserved